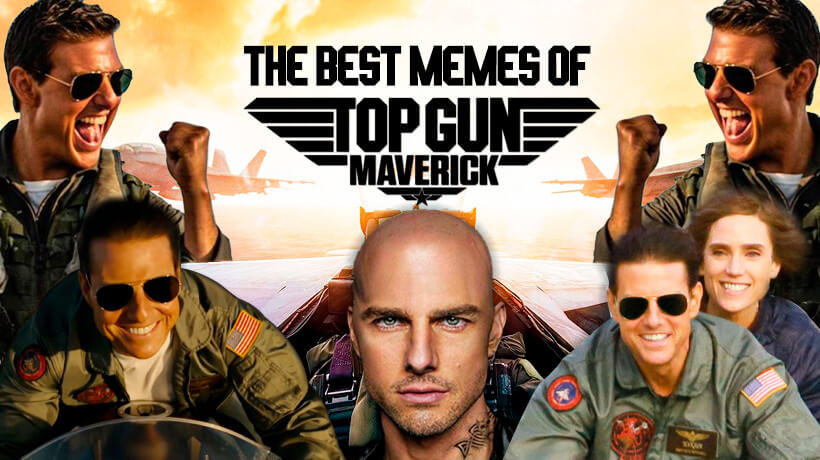 Maverick, the cocky and headstrong wannabe fighter pilot who disobeys his superiors' orders in the Top Gun movie, has become a Hollywood icon. Thanks to this movie, people from all over the world began to love Tom Cruise and Top Gun because it represents freedom, rebellion and the conviction to do the right thing. The incredible stunts and the phrase that remained for the story "I feel the need... the need for speed!" have made him an American legend. Nowadays Maverick's legacy lives on through social media with memes.
Tom Cruise plays Maverick again in Top Gun 2, this time to be the instructor of the pilot academy where he is in charge of a new group of soldiers who want to be the best pilots. Among them is the son of the pilot who accompanied Maverick during the accident in Top Gun. Without a doubt, this movie deserves to be seen and then enjoyed through memes.
Maverick was one of the most iconic movie characters in history. He's been a part of pop culture for decades, and with the premiere of the sequel Top Gun: Maverick on May 27 (2022) 36 years after the classic Tom Cruise movie, fans have published memes of the best moments on Memedroid.
Tom Cruise did it once again and Top Gun Maverick is now the highest-grossing film of 2022 beating Doctor Strange 2, and fans are loving it. It is also ranked second after Covid behind Spider-Man: No Way Home. A great success for Tom Cruise and Paramount who manage to attract the public massively to a film that is far from the superhero genre.
Best memes of TOP GUN 2
Fans are impressed with how Tom Cruise stands the test of time and doesn't seem to age. The memes about his youthful appearance compared to his peers in the original film occupy a large place, in fact the actress Kelly McGillis who played Maverick's instructor and love relationship will not appear in this Top Gun 2 school because as she has stated, "I look my age, I'm too old and fat."
Top Gun Maverick was delayed for several years due to the pandemic and so fans have been creating memes non-stop. We hope you enjoy them!
Surprisingly, a really solid movie. Would recommend
Best memes of the original TOP GUN movie (1986)
The memes from the first Top Gun movie are mainly about how cool Tom Cruise was as Maverick, jokes about his friend Goose that the name alone is enough, and Van Kilmer memes that well, they just work great. Classic moments like Maverick and Goose's "need for speed" as they high-five each other are also depicted.
But mostly memes about Tom Cruise being Tom Cruise and how incredible his life has been since then.
You're done with TOP GUN Maverick memes!
We don't know if the producers will dare to make another TOP GUN movie when Tom Cruise is a grandpa and looks younger than your son, but if so, here we will be with the best memes of the movie.
Surely, you've laughed at the best Top Gun 2 memes from Memedroid, if you still want to have a good laugh don't miss out the best memes of this week!