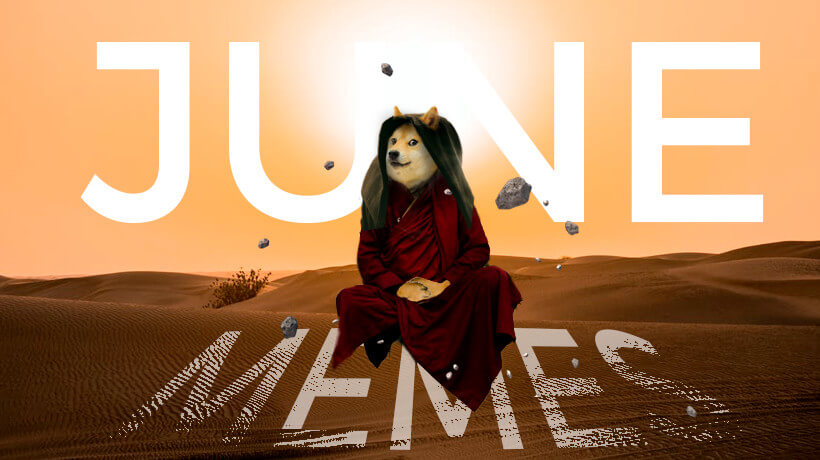 June has arrived with summer sensations! The heat, the end of classes and exams and the first vacations taking advantage of the good weather. June is a month of celebrations of all kinds that give us many opportunities to create lots of memes.
Celebrations like Pride month or Men's Health Awareness Month, as well as long-awaited premieres in theaters such as Jurassic World Dominion or those on streaming platforms including the Obi-Wan Kenobi series on Disney+ (released in May but developed in June), the fourth season of Stranger Things on Netflix and the new series on MCU Ms Marvel. Finally, the comeback of Morbius to theaters thanks and because of the memes that has ended in a new failure for Sony.
On the international scene, the collapse of the global economy, the rise in prices and the bleeding in cryptocurrencies have also given rise to many funny memes. On the other hand, in the United States, due to recent events, the use of weapons has once again been questioned, which has unleashed the debate on all social networks. Lastly, the case of Amber Heard and Johnny Depp has concluded.
Memes about all these topics are filling Memedroid. Hot, fun and trending topics that inspire our community members to create incredible memes for each one of the news that June has brought so far.
Top memes of the month of June
This article features the best memes of the month of June. These are the best rated memes on Memedroid, the funniest and most popular that you can find both on our website and in our app. This post will be updated as the month progresses. Now, have a good time!
A guy asked me out today and I told him no
These are for now the funniest memes of June
We have made a tour of the most outstanding memes of the month, and we will continue updating this post with the new ones that arise, so stay tuned! Surely you still want to see more memes, so take a look at the best memes of the day and vote for your favorites, you can help the June memes that you like the most to appear in this article. Go ahead!