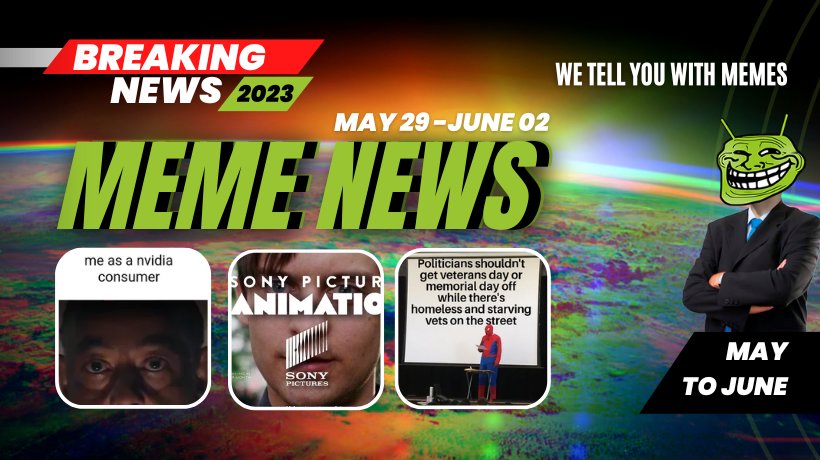 Welcome to the Meme News! Here we bring you a summary of the most relevant news from May 22th to 26th in a simple, fast, and meme-filled way. If you want to stay up-to-date on what's happening in the world without having to read boring articles, you've come to the right place! Get your memes ready and let's see everything that has happened, from video games and events to controversies and trending topics.
Diablo IV gives early Access
The release of Diablo 4 is scheduled for June 6th. However, those who have pre-ordered the special editions have already obtained early access. Thanks to this, we have already been able to see many gameplay videos of this Blizzard RPG. On one hand, it confirms that it is an incredible game, but on the other hand, many bugs still need to be fixed.
Diablo IV is expensive
---
Oppenheimer will be R-Rated
The Oppenheimer film will be Christopher Nolan's first R-rated movie. There are high expectations for this film, which is scheduled to premiere on July 21st. Check out all the Oppenheimer memes here.
---
NVIDIA stock holders: STONKS
Nvidia's stock is on track to reach a $1 trillion market cap, driven by the ongoing AI fever. The demand for cutting-edge chips used in generative AI solutions has fueled Nvidia's growth. The company's latest earnings report exceeded expectations, solidifying its position as a leader in the AI investment cycle. After this, we're sure you're in the mood for some stonks memes!
---
NBA FINALS: Heat vs Nuggets Game 1
In the opening game of the 2023 NBA finals, the Denver Nuggets clinched a home victory against the Miami Heat with a score of 104-93, led by Nikola Jokic. With this outcome, the Nuggets now hold a 1-0 lead in the series. The next Finals game is scheduled for Sunday, June 4th in Denver. Check out the best NBA memes right here.
---
Memorial Day
On Monday, Memorial Day 2023 was commemorated, a day to remember and pay tribute to fallen soldiers. Check out all the latest Memorial Day memes shared on Memedroid.
---
Spider-Man: Across the Spider-Verse has premiered in theaters
Spider-Man: Across the Spider-Verse has made its cinematic debut. Some are calling it one of the best movies of the year. Discover interesting facts about the film and enjoy a selection of the best Spider-Man: Across the Spider-Verse memes in our dedicated article.
---
The Meme News of the week transitioning from May to June 2023 has concluded
Thank you for reading the Meme News! Keep having fun with the best memes of the day and don't miss anything!