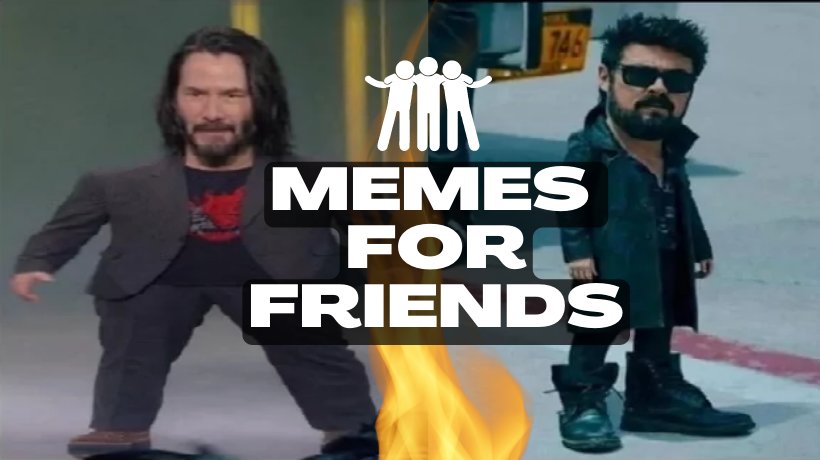 We all have that friend we send memes to every day. On many occasions you do not even respond to each other but you know that they have laughed at your memes and that is worth it.
These memes represent friendship, memes for friends, it's time for you to take one of these memes and send it to yours. Some are wholesome memes for friends, and some are memes for friends' groups, but all of them will be great for your best meme friend who will appreciate each one of them.
The best memes for friends of Memedroid
Gaming friends, IRL friends, lifelong friends, internet friends or Memedroid friends, you are about to see a fine meme selection with funny content to share with all of them. If you need a meme for friends that are sad, here you have some to cheer them up. Be a good friend, share the perfect meme to let them know you appreciate your friendship.
The bro moment with our best friend. Are you the kind of friend who never says cheese things to each other? It is easier with a meme, give it a try.
When you and your friend were chosen to be together at the assignment and you know it was inevitable because you are destined to be bros forever.
When it's the stupidest thing in the world but you laughed and you want your friend to see it too.
True friends can say absolute savage things to each other in a funny way and never get offended, the fun is in seeing who can be more ingenious that makes you laugh until you cry.
If you laugh you lose with your friends is the shortest game you can play with them.
Years of training to annoy your friend when he's on a phone call with his dad.
Memes for friends 7: Jokes on you I don't have a friend or a girlfriend
Girlfriend: Let's go to bed it's too late.
Boyfriend: But the boys are asking for one more game… I can't let them down
Man... this is wholesome, do any of you keep a lifelong friend?
TikTok's Roman knows a lot about betrayals, he's a lot like Caesar.
Imagine this happens to you... we all have internet friends with whom we have played and we have never seen. People we share our passion for games with. This meme, indeed, is enough to make a grown man cry.
When you spend the day insulting your friends but you also care about them.
Some friends aren't even human, you can find friendship in your pet or in a cow, like this guy does.
Guess the best friend among these three.
We don't need money to have a good time.
When you're the chill friend who never argues and you have two pissed off friends because one doesn't want to go out and the other does.
That moment when you think your best friend will leave you forever. But then you realize that now you are enough to form a squad instead of a duo in video games.
Do you remember when you went to school and asked if you could play ball and you already had 50 friends? After 30 you don't even want to make the effort and you don't like most of them.
Many of you will find this meme for friends very relatable.
It's not nice to hold sh** in like that. We all have a dark side, just chill and don't try too hard. You are probably naturally funny.
This joke is so absurd that it is worth trying. Save the meme as a favorite so you don't forget it and record a funny video with your friends.
Do you have a meme friend?
If you don't have a meme friend you should start creating one by sending them a first meme. Memes are also great to start generating more relationship with your crush, so you know, start by making they laugh with memes for friends and then you can send them crush memes or dating memes. It's just an idea!
Now we recommend that you check out some of our craziest articles that the community is loving. In particular you can see the one of the funniest muscular animals or the most surprising delivery driver memes.