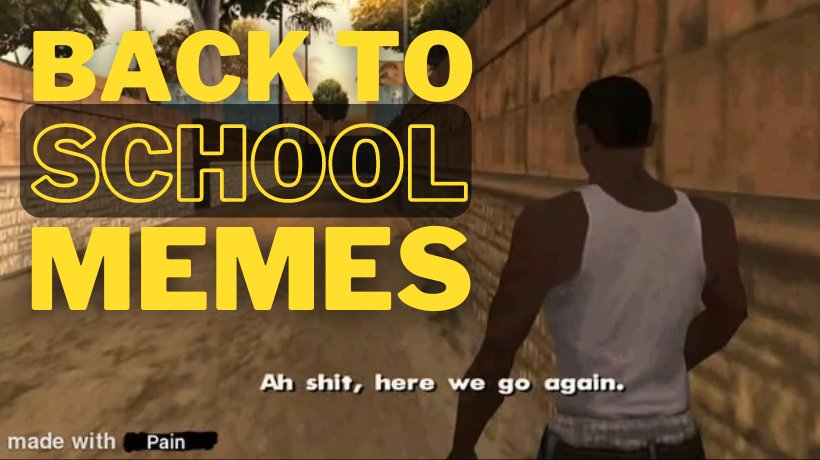 These memes are not for parents or teachers, these memes are for students who have to finish the summer and go back to school. We know how hard it is to go from being on vacation to having to return to the routine. The first days are the most exciting, tiring and hard, because it's difficult to forget how easy life was when you didn't have to do anything you didn't feel like doing.
The best thing to go back to school with enthusiasm is to have a haven of laughter that can welcome you when you're hating the world at eight in the morning. Our back to school memes will give you reasons to smile and forget about the rush to get to class on time, having to concentrate for hours and putting up with teachers and classmates you can't stand.
Back to school? Easier if you laugh about it with memes
Let's go to the important thing, during the summer we have brought you the best vacation memes and the best memes of each summer month, but we will not leave you in the most difficult moments. For this reason, we have selected some of the funniest back-to-school and end-of-summer-break memes. Making you laugh is a lot and it's honest work. We send encouragement to the entire Memedroid community that goes back to school these days. We got your back!
Back to school is like
You are right now thinking: "Damn I wish I still got summer break…"
Back to school, back to college, back to work, everything feels the same.
First day of school vibes. Some of the old school dudes will find this very relatable.
Ok, fine. Let's just have one meme for the parents and teachers of Memedroid.
Chill mate, it is not that bad. We all go through these back to school days, there will be great moments too.
What is this?! OMG. If you ever got a school lunch as weird as this please share it. Probably many you will have had flashbacks watching this.
Time really flies, it's a bit scary... especially if we haven't started with one thing and we're already thinking about what will happen in 4 damn months!
This… this puts a smile on my face. Proudly thinking, that's right, it's still there and it will be there forever.
What are you doing? Wake up! Tomorrow the summer holidays begin, three months of tranquility ahead. Oh no summer is already over.
Imagine the lobster trying to explain this to his friends.
Mate… it is already here.
Back to school means goodbye to video game nights until dawn. Sad…
First day of school, your father is leaving at the door and suddenly oops... I screwed up very hard.
This is a life hack but we do not recommend you to use it.
Goodbye summer break, we will miss you. But it's okay, good things will happen this course.
Share your best back to school memes
The first days of going back to school can be depressing, but those are the moments when some of the best memes come out. So, when you're falling asleep in class, think... would this be a good meme? You may have great and funny ideas, share them!
By the way, with the return to normal life after the holidays, Memedroid is full of members of the community who want to have a good time. Perhaps you have missed some of the memes of the most relevant releases in recent weeks, such as the best She Hulk memes and the House of the Dragon memes. So we leave you the links right there.