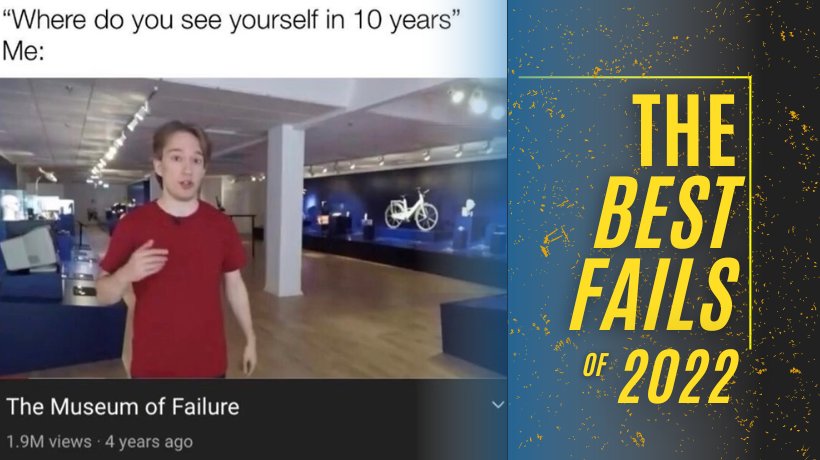 Fails aren't just funny videos of people falling down, fail is a term that is used to describe a case of failure of any kind, especially when it comes to people doing things and screwing up. It has become a popular term on social media and memes of the best Internet fails are shared on Memedroid.
We have all experienced embarrassing failures in our lifes. Whether it's tripping and falling in some important situation like at your cousin's wedding or laughing while you were drinking and the fluid just came out of your nose at your new job.
Each person has probably been through something different. There are many types of fails that can make someone feel embarrassed but there are other fails that hurt not only mentally but also physically. A big hit doing something stupid or something that went wrong when you thought it was a great idea and you got hurt.
Top fails of 2022
Today we have prepared a selection with the best fails of the year 2022. In this article you will find fails of all kinds, videos are generally very popular but in Memedroid we have video and image fails, everything you need to have a good time at all levels. Here are some highlights of this year's most embarrassing and hilarious fails:
Me when I was a kid getting high grades
Do you remember any embarrassing fails that happened to you?
It is a never-ending question. We've all done it at some point in our lives, you surely can think of that embarrassing moment when you did something so stupid and became such an idiot that you wished the ground would open up under your feet and swallow you whole.
Make a meme with your biggest fail, whether it's the fail you had when proposing to your crush or when you went out to a presentation with your zipper down. It will be so much fun to see your story in a meme.
¡Don't forget to check out best memes of the day!