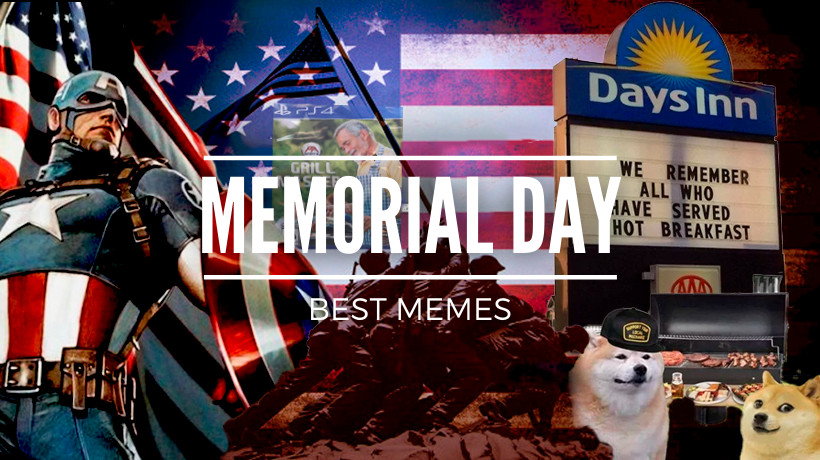 Happy Memorial Day. Remember and Honor.
Every year we celebrate Memorial Day. It is a day in which we remember and honor all the soldiers who died in battle. Years ago its name was "Decoration day", it was a day when families went to the graves of deceased soldiers and decorated their graves. Nowadays it is celebrated with family or friends by having barbecues or picnics taking advantage of the good weather. Although there are many people who do not agree with this form of celebration, the truth is that these are days in which millions of people travel to celebrate it in one way or another.
Don't confuse Memorial Day, which commemorates fallen soldiers in battle, with Veterans Day, which commemorates military veterans.
During Memorial Day Memedroid and the meme platforms are filled with inspiring memes, memory and honor but also funny memes that refer to the way it is celebrated, the barbecues and the different customs of the people.
Top funny Memorial Day Memes 2022
Let's see the funniest Memorial Day memes and images of 2022. If you want to see inspirational memes you just have to keep scrolling, it is the next point. Enjoy!
Best Inspirational Memorial Day Memes
Now that you have seen the funniest memes about Memorial Day, we are going to see the images, quotes and inspirational memes to honor and remember the fallen soldiers on this special day.
He's a good guy. Give thanks to those who help protect others' lives.
We hope you enjoyed the best Memorial Day memes of Memedroid (2022)
Memorial day has been an important event in America for over a century, and Memorial Day memes are one way to commemorate this patriotic holiday that celebrates the men and women who have served our country in uniform or given their lives to protect our freedom.
Today is a day to reflect on those who sacrificed their lives for our country, but it's also a time to remember that even in dark times there are some hilarious moments. You have seen the funniest and most inspirational Memorial Day quotes, images, memes and jokes of 2022. So now, we invite you to see the top memes of the day or the collection of the top memes of the week. Have a good day and happy Memorial Day.