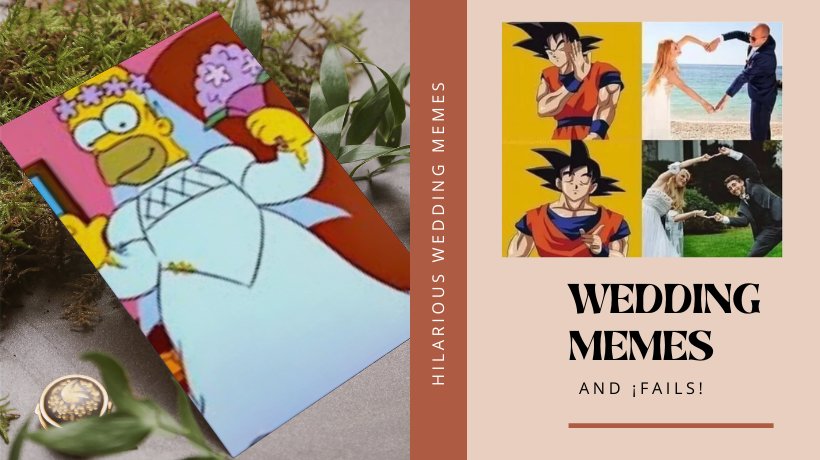 If you are here it is one of these three reasons: You are getting married, a friend or family member is getting married or you have simply come for the laughs. In this wedding memes compilation we bring you the best memes that you can send to the couple that is getting married, or to your boyfriend or girlfriend if they are making too many jokes about a hypothetical wedding. Weddings are a unique day that must be perfect, but when something goes wrong it becomes a viral situation which we turn into memes.
Top funniest wedding memes
Let's start with the best wedding memes, unbelievable moments that happened when the couple was getting married and that will make you laugh if you have ever seen or been to a wedding. Although most of them are so crazy that we sincerely hope that this has not been the case for anyone close to you. Go ahead!
Weddings are an excuse to drink and eat until you explode.
Imagine if she didn't know it was a videogame and all this time just thought that was something she'd have to tolerate if she wanted to be with him. Great thought in the comments section.
Let the king dance if he wishes
This feels personal.
Reality is often disappointing.
This is not only the church in which we are going to get married, but also the house in which we will live.
My dream in life is not to get married, it is to become a best man as good as this one for my friends.
When my relatives tell me "you're next" in a wedding
I'm going to save this meme, not gonna lie.
They're gonna go for a ride later that night
Wedding fails and some good memes from previous years
When something is being as perfect and beautiful as a wedding, there is always the constant tension that everything is going according to plan, sometimes this tension is broken when suddenly something unexpected happens and everything becomes a disaster. For the "just married" and closest family and friends it is a shock, but since we all have a mobile in hand, these moments instantly become viral internet memes.
Luckily for us, we can enjoy the fails without the emotional connection that a wedding usually implies. You'll wish these fails never happen to you, but the truth is that they are too funny and surprising not to share them.
He is the best wedding photographer. Let him prove it.
Me and the boys all dressed up proud of our friend
I'm sure he jumped like a security guard in front of the boyfriend so he wouldn't hit him.
I gotta admit that if they were just for some fun moment, it must have been great.
Children crying at the wedding watching their parents take out the forbidden dance steps.
This might be a fail for the married couple but for her and and the guests is a total triumph.
Have you felt like getting married after seeing the best wedding memes?
We're sure you've laughed a lot, and if you ever get married, you'll take into account all the things that can go wrong (to avoid them). In addition, the memes you saw may have given you great ideas.
Check out the best September memes now, we make an article with the best memes of each month and the Memedroid community is loving it, don't miss it!